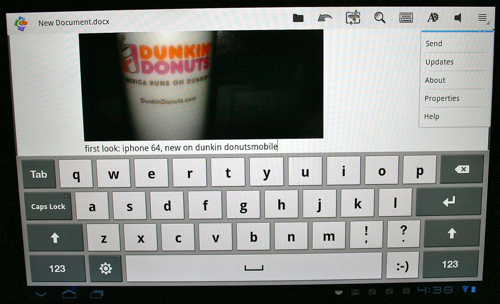 Quickoffice HD
You'd hope an app with a hefty $16.99 pricetag would have a lot of features. Fortunately, Quickoffice Pro HD has the guns to back up the expense. Essentially a cloud-based Office suite, you hook up your Google Docs, Dropbox, Box, or MobileMe accounts to QuickOffice, and then you can create, access and share Word, Excel, and Powerpoint documents. One of my favorite features in QuickOffice is its speech recognition, so if you aren't comfortable with typing on a tablet yet, and you don't have a bluetooth keyboard, you can dictate blocks of text.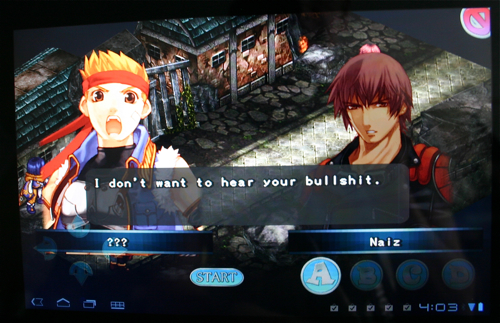 Spectral Souls
Another expensive app at $14.76, Spectral Souls is a full-scale tactical role playing game that shines especially brightly because it's exclusive to Android. Android doesn't yet have anything quite as graphically mind-blowing as Infinity Blade on iOS, but Spectral Souls is no less impressive thanks to its sheer size. Hyperdevbox Studio says it has "hundreds of hours" of gameplay, 82 characters, and 52 different soundtracks.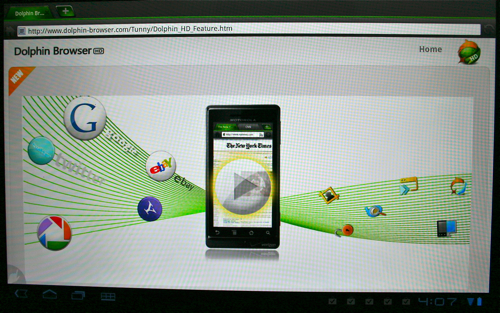 Dolphin Browser HD
The first third-party Android exclusive browser has gained lots of traction since debuting on Android 1.6 late last year, garnering more than a million downloads since that time. This tablet-centric version has a big, clean UI, and supports the use of plug-ins such as Adobe Flash. It is a solid alternative browser, and we're quite big fans of those.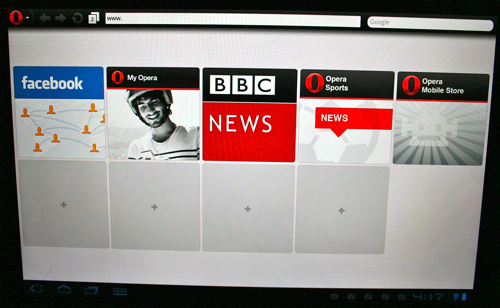 Opera Mobile 11
Speaking of alternative browsers, Opera users have a full Honeycomb-compatible version of Opera Mobile 11 that delivers the familiar Opera experience with general reliability, although like other Android versions of Opera, it is comparatively a very large application download.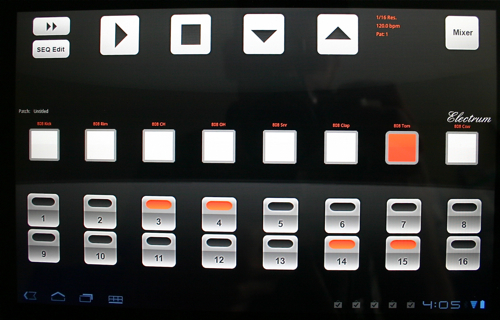 Electrum
This lightweight and affordable drum machine application has been around
for more than two years
and has gotten a UI overhaul for Honeycomb tablets. It's a good app for what I like to call "junk musicians," or people who don't need a full production suite with oodles of plug-ins, and who are quite satisfied with the ability to build their own sample set and then sequence it.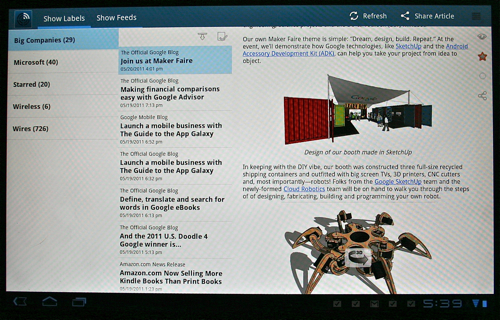 Newsr
Chris Stewart, the maker of Tweetcomb, made Google Reader app Newsr in an admirably clean and simple fashion. First, there's no linking out; all content, including flash video, is kept inside the text window on the right side of the interface, and articles can be shared via bluetooth, email, Facebook or Twitter all from within the app. Google Reader is a good way to centrally store RSS feeds, but has never had the best interface. This is definitely an improvement.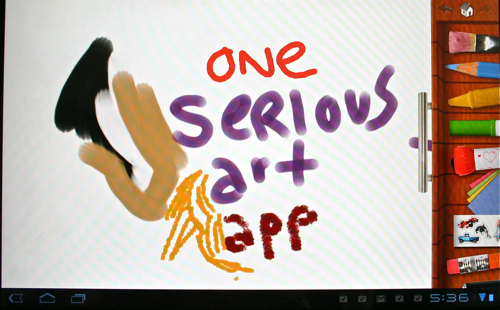 Drawing Pad
There are a couple of drawing applications for Android tablets, but none has the beautiful interface of Drawing Pad. Tools show up exactly as they could in real life, so if you want to paint with brushes, a drawer full of color-daubed brushes opens; if you want colored pencils, a drawer full of them opens up. It's very appealing, and makes the app a lot more fun to use than others on the platform.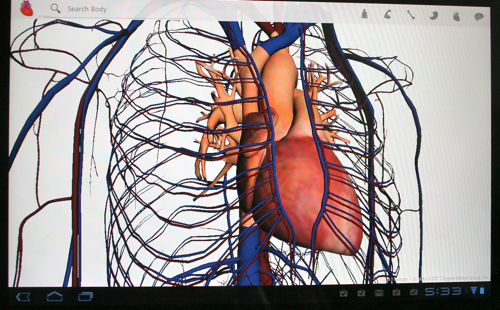 Google Body
It's hard to believe this is a free app. You're presented with a zoomable, scalable 3D rendering of a human body which can be viewed as different layers (bones, muscle, circulatory, etc) or can be searched like a map of named body parts. On the Samsung Galaxy Tab 10.1, this app is as smooth and fast as can be.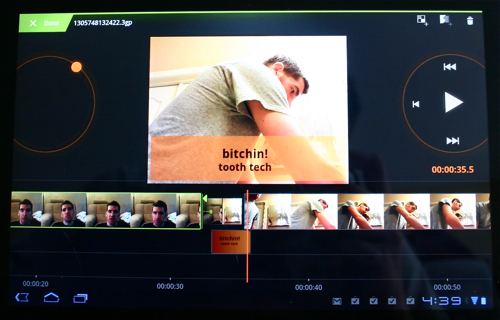 Android Movie Studio
Unveiled just four months ago, the first video editing package for Android is extremely exciting. It's got fewer features than Windows Live Movie Maker and iMovie, but the fact that you can capture a video right on your Android device, then apply filters, titles and music to it, and directly upload it to YouTube really brings new meaning to "in-camera edit."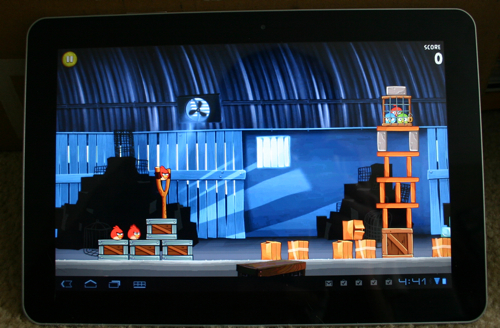 Angry Rirds Rio
Let's face it, any mobile application top ten is going to find a way to include Angry Birds if it wants to be genuine. It's the Citizen Kane of mobile gaming. But sequel Angry Birds Rio is worthy of being included as well because it's essentially the same game with other animals as targets instead of pigs, and it looks and handles beautifully on Honeycomb tablets like the Galaxy Tab 10.1.
Big Disappointments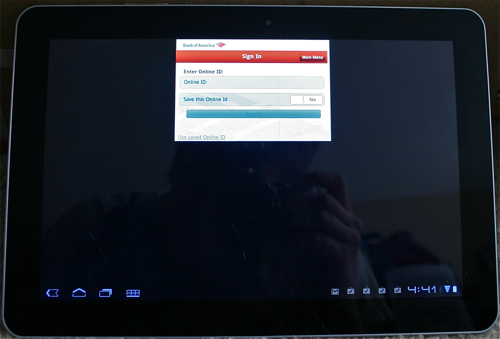 Bank of America Mobile Banking
This application has been downloaded five million times, yet it only supports the old Android screen size profiles, so what you see in the image above is what you'll see on your Honeycomb tablet. Furthermore, with the most recent update, Motorola Atrix users began complaining that the app didn't work for them, and it has not been fixed or addressed yet. It's odd that one of the United States' biggest consumer financial institutions should have such a poorly supported mobile banking application.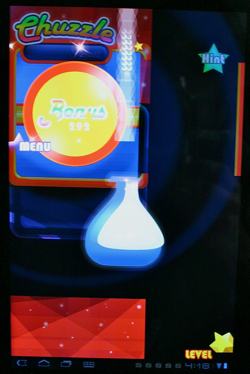 Chuzzle
This PopCap title is noteworthy because it's an exclusive to Amazon's Appstore for Android. Unfortunately it lacks support for ANY Android Tablets. That isn't to say it doesn't work, it just is not formatted to fit the screen, so you will be able to play the game, but all the effects and layers are in all the wrong places. The main reason it is so disappointing is that it's a featured download on the front page of the Amazon Appstore, and it was the free download of the day while Google I/O was going on, meaning a big chunk of new Android tablet owners tried to get it, only to be disappointed by the lack of support.